April 26, 2018
Seward High Art Students created multilayer stencils illustrating any healthy activity in their lives for the Seward Community Health Fair this past weekend.  The public was welcome to jury this art show and four students pieces were voted as the most popular and will be receiving prizes!  Congrats in no particular order to Marisa Phasomsap, Tegan Retzer, Hana Cooney and Cody Bryden!  Students edited photos on Photoshop, then hand cut each stencil layer (color) with exacto knives onto cardstock.  They sprayed each layer lightly with spray-paint, waited for it to dry and then added the next. Great Job!
Marisa Phasomsap – Wonder – Exploring the stars.
Tegan Retzer – Bigotry is Bogus – My friend protesting for women's rights and looking fierce.
Hana Cooney – Guiding – My father smiling for the camera on a hunting trip.
Cody Bryden – Ski-Doo – Snow machining up at Lost Lake is a good way to get outside.
April 9, 2018
Congrats to all students who showed work in the KPBSD District Art Show! This is a juried show featuring top art from all over the Kenai Peninsula Borough School District.  We took home some great awards this year! Congratulations to:
Blaze Havnen Grade 12 – BEST IN SHOW!
Venom's Cheesesteak
Joshua Park Grade 10 – 1st Place in the Open Category
Self Portrait
Blaze Havnen Grade 12 – 3rd Place in Painting
Urie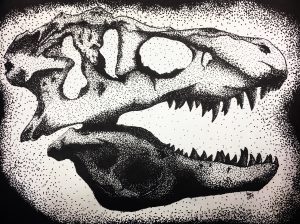 Marisa Phasomsap Grade 9 – 3rd Place in Monotone Drawing
T-Rex Skull
March 1, 2018
For this project, we looked at playing card designs and talked about rotational symmetry – where a design is flipped 180 degrees instead of being a mirror image. Here is what SHS Art Students came up with for their own designs!
Clara Lee
Riley VonBorstel
Sadie Lindquist
Paola Baez
Lani Lackey
Beau Frieberg
Coulter Fiore-Pruitt
Aaron Kuller
Steven Osborn
Levi DeBoard
Jared Dean
Malia Hewitt
Rachael O'Rourke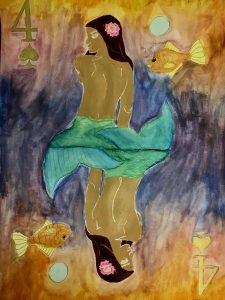 Elisa Turner
Collin Mullaly
Chris Kingsland
Kylie Mullaly
February 9, 2017
Seward High students learned 12 different watercolor techniques, including using salt, rubbing alcohol, tissue paper, etc.  Then they hand drew a person or animal and used this drawing to create a water color painting, utilizing at least 5 of these techniques as they chose.  They did an amazing job!  See if you can figure out what technique they used where!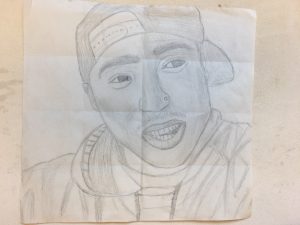 Bekah Christenson's Tupac drawing
Pricilla Stoltz
Dylan Dunning
Tyler Goddard
Clarence Longan
Bjorn Nilsson
Conor Spanos
Isaiah Bivens
Eliza Goddard
Hunter Hollingsorth
Elijah Gundersen
John Moriarty
Kyrsten Johnson-Grey
Dax Robinson
Lincoln Farris
Justin McMurray
Sholanda Vert
Laurel Correa
Allison Rogers
Linnea Hribernick
Alex Ursel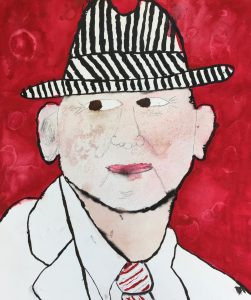 Chad Quinn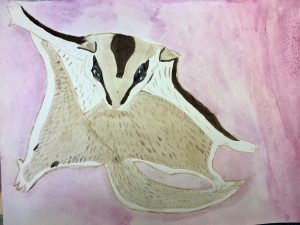 Sophi Dow
Josh Park
Madison Athey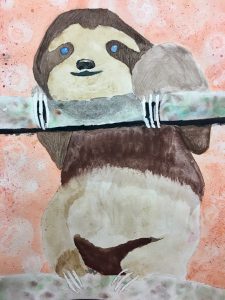 Jaden Vandyke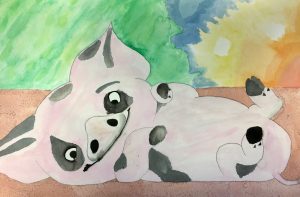 Maddy Moore
Katelyn Correa
Clara LaRock
Nathaniel Basalo
Shayne Sullivan
Hayley Unrein
Ryan Miller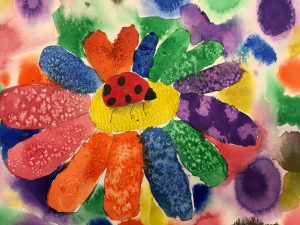 Jazmine Jarnig
Eldon Zinis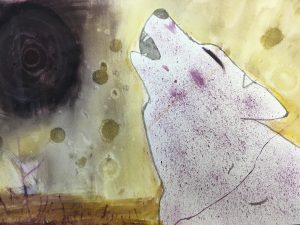 Gabe Wood
Ally Chryss
Megan Koster
Krisnan Weston
Coral Petrosius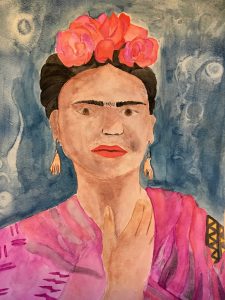 Naomi Ifflander
Angela Tinker
Meghan Mullaly
October 21, 2016
These frames were more difficult than I'd imagined to construct!  Students made a paper pattern first and then traced their design onto clay slabs.  The photos slide into a little compartment in back and all the frames have a way to be hung too!  Thanks students for your patience and creative designs!
Chad Quinn
Chris Kingsland
Tyler Goddard
Steven Osborn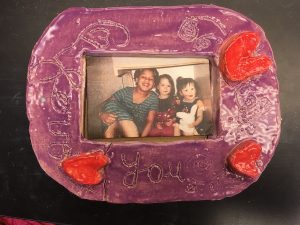 Olivia Carney
Kalista Rodriguez
Walker McKnight
Sadie Lindquist
Meghan Mullaly
Trapper Allen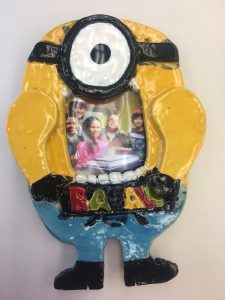 Nathaniel Basallo
Angela Tinker
Sophie Dow
Brendan McMurray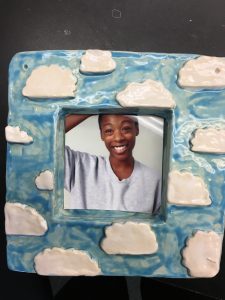 Allie Tollof
Basil Dougherty
Naomi Ifflander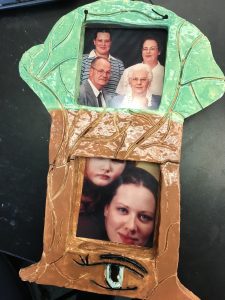 Natasha Tolbert
Beau Freiberg
Emma Moore
Zen Petrosius
Forest Matheson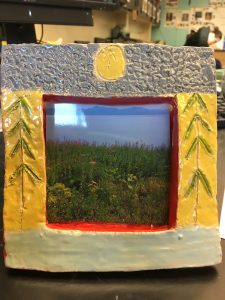 Akilena Veach
Nicole Charlie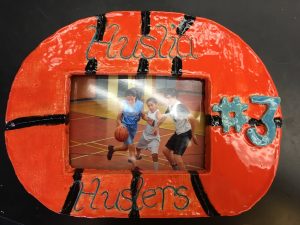 Shalonda Vent
Kaylee Brockman
Heleana Backus
Braden Lane
Kobe John
Robert Chapell
Linnea Hribernick
Winter Richie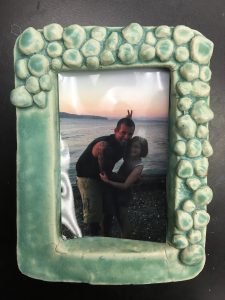 Clara LaRock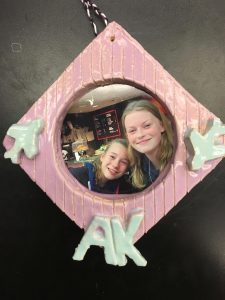 Sarah Meinema
Mikayla Dumars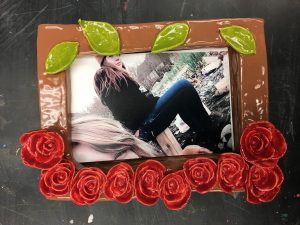 Dana Van Slyke
Daisy Terry
Eliza Goddard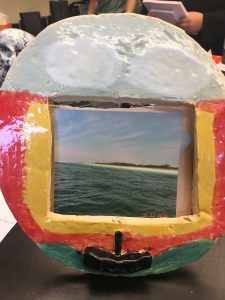 Jack Gunther
Raven Stevenson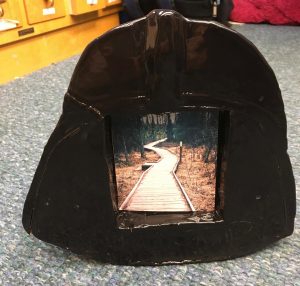 Krisnan
Elena Hamner
Nele Hohenstein
Ruby Lindquist
Case Estes
Maddy Moore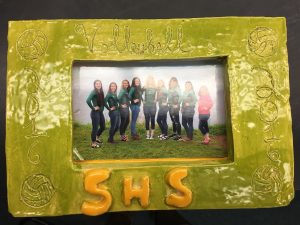 Jessi Hood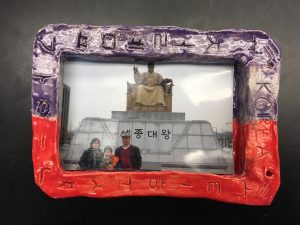 Joshua Park
Jaylon John
Justin McMurray
Alexis Sullivan
Egor Sturdy
Kamryn Pack
Jacob Lodzinski
Alex Ursel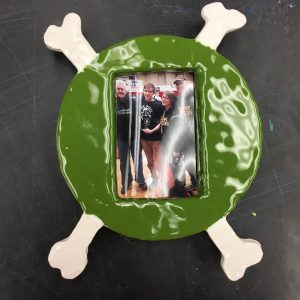 Brooks Berry
February 4, 2016
For our first project in SHS's Ceramics Class and SMS Art Class we went back to basics – the human hand.  Hands have been connected to our personal identities and to our humaness since we lived in caves.  Seward High Students took inspiration from henna designs, hand tattoos, folk art, and anataomy to name a few.  Great job!
Human hands printed by spraying paint through bone-made pipes over a hand pressed against the wall. Cueva de las Mano, Argentina, circa 7300 BC
Allie Toloff
Jacob Hall
Riley VonBorstel
Trapper Allen
Simon Estes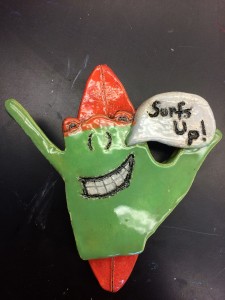 Sully Hauze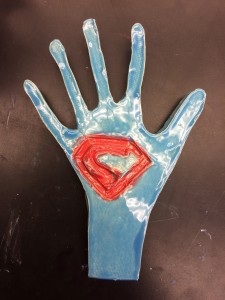 William Storle
Hunter Allen
Ashley Guernsey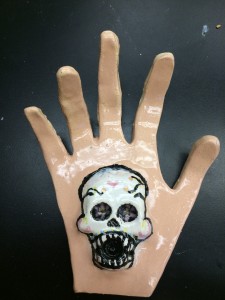 Blaze Havnen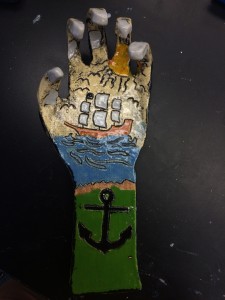 Kjell Nilsson
Nick Woodard
Sequoia Sieverts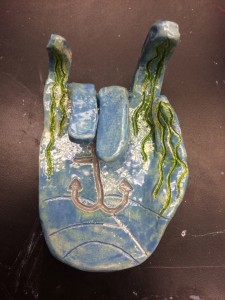 Lydia Jacoby
Cameron Bunch – Galaxy Hand
Bekah Christenson
Kyrsten Johnson-Gray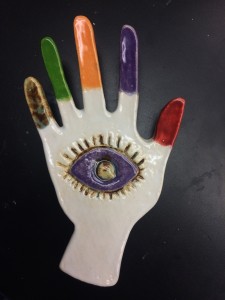 Sabrina Spiers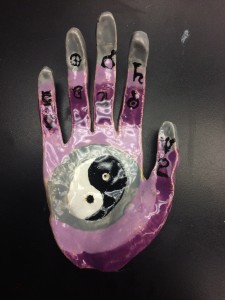 Coral Petrosius
Clara LaRock
October 12, 2015
Seward High Ceramics Class has been up to a lot this quarter!  They began by making paper mache circus animals to decorate the Seward Music and Arts Festival.  This involved drawing out patterns, projecting them onto large sheets of plywood, cutting the parts out with jigsaws and routers, constructing the wooden forms with screws and nails, adding the muscle and flesh with newspaper and chicken wire, paper mache-ing the outside, and painting!  Here are some process shots!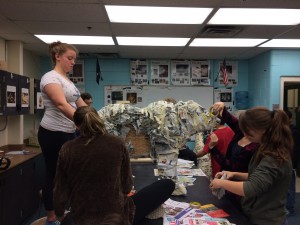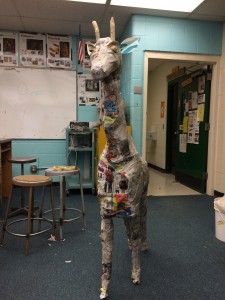 After all that work, they finally began with clay, and the first assignment was to create a sculptural container with a removable lid:
Megan Mullaly
Nathaniel Basalo
Nicole Charlie
Brandon Suddath
Justin Croft
Roma Hamner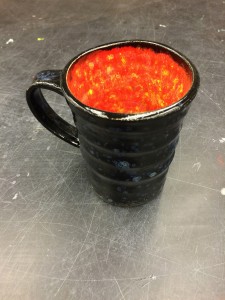 Emilia Whitcomb
Tyler Goddard
Megan Mullaly
April 2, 2015
Jessica Fry Grade 11
Andy Hughes Grade 12
Elannah Camp Grade 12
Elannah Camp Grade 12
Julia Lindberg Grade 9
Julie German Grade 8
Gabe Harris Grade 10
Maddy Rea Grade 11
Darci McFaul Grade 12
Landon Davis Grade 6
Linda Jack Grade 6
Neil Lindquist Grade 6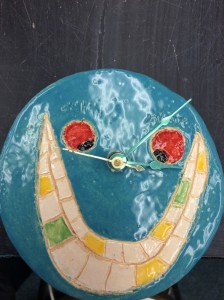 Zen Petrosius Grade 9
Maddy Rea Grade 11
Dana Van Slyke Grade 10
Bekah Dean Grade 10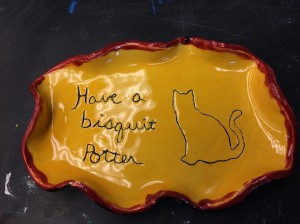 Clara LaRock Grade 9
Bekah Dean Grade 10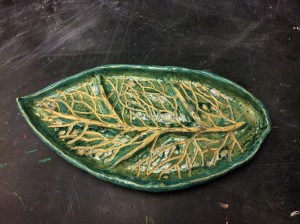 Maddy Rea Grade 11
Hope Quinn Grade 10
Maddy Rea Grade 10
Jessica Fry Grade 11
February 7, 2015
Much thanks to Judy McDonald for the huge task of putting on the NOSB art show every year!  She arranges the show with mailed in and hand delivered pieces from high schoolers all over the state, carefully unwrapping large, fragile, bubble wrapped masses,  hanging art from fishing nets, matching pieces to labels, and finding local artists to juror the show.  The opening was tonight at the Rea Building and will be up through the weekend.  I wanted to highlight Seward participants who received awards, although teens from all over the state made and were awarded for beautiful and interesting Ocean themed art.
Seward High received two First Place Prizes!
Bekah Dean 1st Place in 3-D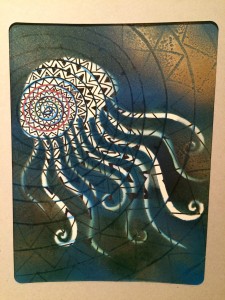 Ruby Lindquist 1st Place in Mixed Media
Anastasia Storle 2nd Place in 3-D
Lydia Thomas 4th Place in 3-D
Emma Moore 4th Place in Drawing
Tyler Zacher 4th Place in Mixed Media
And the following students received Honorable Mentions:
Kriziel Sarmiento
Kiana Clemens
Winter Richey
Joshua Wood
Cameron Bunch
Michael Wolfe
Kim Leavitt
Dana Van Slyke
Brandon Lynch
Darci McFaul
Great job everyone
December 11, 2013
I was inspired to do some deep cleaning in my supply closet and stumbled upon stashes of leather and leatherworking tools from the late 1990s I'd guess.  This deduction is due to finding Seward's own Kris Peck's name stamped into one of the scraps.   I decided to put this fine resource to use although I had literally no experience with leather tooling.  A few Youtube tutorials and a visit to Tandy Leather in Anchorage later, we were in business.  Students began with keychains to get the basic idea, and then moved onto a bigger project: wallets, holsters, belts, purses, dog colars, moccasins…  We tooled the leather, stamped it, stained it, painted it, riveted it, sewed it, and so on.  Here are some of their projects!
Ashley Whiteshield
Cody Hall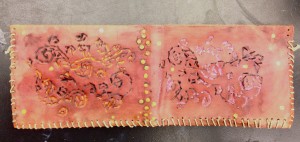 Shyanne Washik
B Waggoner
Erin Spradlin
Michaela Osenga
Jon Valencia
Rhett Sieverts
Kelsey McKean
Alyssa Leisure
Grant Orvis
Hannalyn Ohlsen

Renzee Comia
Olivia Beckham
Logan Smith
Renzee Comia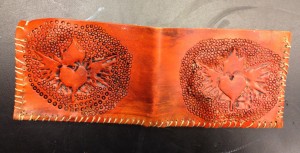 Andy Hughes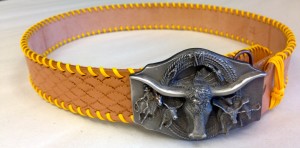 Rachel Tougas
Vitali Sturdy
Ashley Whiteshield
Hunter Kratz
Tyle Quiring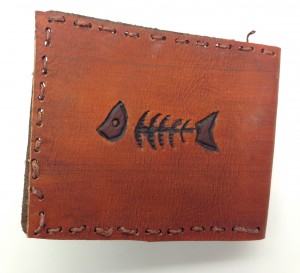 Hannalyn Ohlsen
Sabrina Spiers
Zane Zimmerman
Olivia Beckham
Jasmine Sagner
Anthony Gibson
Tessa Lyman
Grace Calhoon
Alex Ashford
Reid Broughton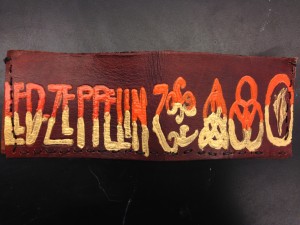 Sara Tolson