January 16, 2017
We are beginning a watercolor unit. Our first project will cover the basic techniques in watercolor while making a cool piece of art. We are covering 12 techniques and here are examples of each: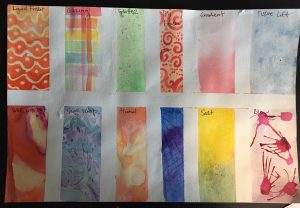 You need to begin by coming up with a composition which includes 12 shapes which are all about the same size. Here is my idea!


After you get your design approved, plan out where you will do each technique. You can plan colors and shading too!


Next you need to tape out your design on watercolor paper. You need to make the masking tape tinner but cutting it into 1/2, 1/3 or 1/4 as thick using scissors or exacto knives. You may want to make some lines thicker and some thinner.

Before you begin painting make sure you have:
watercolor set
multiple brushes of different sizes
cup of clean water
toothpick
saran wrap
salt
alcohol
liquid frisket
kleenex
2 straws
Here is my video tutorial on how to do all of the watercolor techniques. Please follow along, and pause or rewind if necessary!
Here are the tehniques in the order I cover them:
Watercolor Techniques
Liquid Frisket
Glazing first layer
Underlayer for:
Splatter
Dry Brush
Blow
Wet onto wet
Salt
Scrafito
Graded
Saran wrap
Tissue lift
Alcohol
After First Layer is Dry Revisit and Finish:
Liquid Frisket Background
Splatter
Dry Brush
Blow
Glazing Second Layer
Here is my finished product and some from the past:


BWaggoner

Chloey Baldwin

Mary Ramirez
Leave a Reply